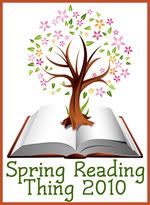 I have a draft post full of links to good ideas that I've found while blog surfing...I just don't always remember to include a notation of where I originally found the link. All that to say that I have no idea which blog I was reading that alerted me to
The Spring Reading Thing
at
Callapidder Days
. As a reader I knew I had to participate, but picking a list of books has been difficult. The library doesn't have some of the books I most want to read, neither do the bookstores I frequent which means I will need to order them online and I keep forgetting to buy a new Vis* gift card (we don't use our credit cards online...I know, a little behind the times we are.) So here's my list and I will do my best to remember that gift card the next time I'm at Kroger. A couple of these are books that I do have and have started, but just haven't managed to finish.
This Handmade Life
by William Coperthwaite: I bought this book with birthday money back in November. It's a very interesting read, but for some reason I keep putting it down to read other things. I would like to get it finished.
A Conservationist Manifesto
by Scott Russell Sanders. This is one I will need to purchase.
Hand Wash Cold: Care Instructions for an Ordinary Life
by Karen Maezen Miller. Again, I need to order it.
Ordinary Time: Cycles in Marriage, Faith and Renewal
by Nancy Mairs. I'm a little more than halfway through her book
A Dynamic God
which is a challenging read but also deeply resonant with me. Thankfully the library has this one.
If the Church Were Christian
: Rediscovering the Values of Jesus by Philip Gulley. Gulley, along with James Mulholland wrote
If Grace is True: Why God Will Save Every Person
and
If God Is Love: Rediscovering Grace in an Ungracious World
. The first is a statement of belief tht God will save everyone...no matter what. The second explores how believing in such grace affects one's life. In this new book, "Gulley wants us to consider what the church would be like if more Christians modeled their lives after Jesus, embodying his love, compassion, hospitality and forgiveness." as stated in
this review
at Spirituality & Practice.
I'm sure I'll read more between now and June 20th, but these are the books that I most want to read during that time. Maybe I'll even post reviews as I finish each book!